Why Realtors Choose Us
At Comfort Home Inspections, we are the go-to home inspectors for realtors across Minnesota because we put effort into making the buyer feel comfortable and at home even before closing. Here's how we do it:
1. Buy-Back Guarantee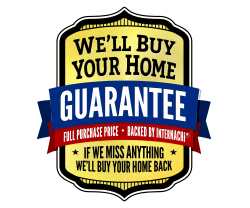 We're so confident in our inspections that if we miss anything, we'll buy the home back from your client at the price they paid. That means they get to put it back on the market through you, then we immediately buy the house back, again through you.
Our guarantee is offered if the homeowner finds a problem that would normally be on our inspection checklist within the first 90 days after closing.
See the InterNACHI Buy-Back Program for more details.
2. Non-Alarming Reports
We take reporting just as seriously as inspecting, but that doesn't mean we'll panic your clients with every issue we find. After our inspections, we'll sit down with the potential homeowners, guide them through their home with pictures, and explain (in non-alarming ways) what we found, both good and bad.
3. Nationally Certified Inspectors
We have professional inspectors operating across Minnesota. Each Minnesotan inspector is licensed by the International Association of Certified Home Inspectors (InterNACHI).
4. Easy Scheduling
We make appointments as easy as possible for your buyers. We can usually schedule and complete inspections within 72 hours of your phone call (even next-day inspections are possible depending on availability).
Our inspectors are able to come out to your buyer's home during morning, daytime, or evening hours, on both weekdays and weekends, so that their inspection is on their time, not ours.
Connect With Us Now
We'd love to work with you. Want to get to know us even more? Contact us today and we'll help you complete the buying process with more satisfied clients. We've been in the business and have been using the best tools for over 18 years, so we know how important our partnership is in the buying and selling process.

Call or Text: (612) 469-9707
Email: Keith@comforthomeinspections.net
Keith was amazing. He and his colleagues communicating everything about my home inspection up front including cost. He was the quickest to respond to my inquiry and also the most economical. He was professional and courteous during the inspection. He walked us through every area he had concerns about so there were absolutely no surprises when we got his final report.

Silvia J. in Maplewood, MN
Rated 4.9/5 stars on Google Reviews
Read more reviews here: Minnesota