Home Inspections are Important
Today, home inspections are completed on 85% to 90% of all real estate transactions. No homeowner wants to move into a new house to find anything unexpected, from a faulty outlet to a potentially deadly gas leak.
At Comfort Home Inspections, Inc., we pay close attention to every detail of your new home because that's what we would want for our homes. Our checklist covers everything from the shingles to the sump pump, and you'll get to see every note we make.
Our team can often schedule and complete your inspection within 72 hours of your phone call, as well as next-day inspections depending on availability. We're able to come out to your home during morning, daytime, or evening hours, on both weekdays and weekends.
Included in Our Inspections
We're thorough with your inspection; an entire floor of your house may take us two hours to observe.
Our inspections include:
Roof and chimney
Exterior
Basement, foundation, and structure
Heating and cooling
Electrical
Plumbing
Attic, insulation, and ventilation
Interior, doors, and windows
Thermal imaging

(at no extra cost)
View a sample home inspection report here.
Inspection Day
On the day of the inspection, we'll spend two to four hours going over every inch of your home, from top to bottom, making notes and taking pictures of everything we find. At the end of our inspection, we'll assemble all of our notes and digital pictures and sit down with you to go through the status of your potential new home. Afterwards, we'll assemble a more in-depth report to be emailed to you within 24 hours.
Buy-Back Guarantee
We are so confident in all of our professional inspectors that if we miss anything, we'll buy your home back from you at the price you paid. Our Buy-Back Guarantee is offered if you find an issue within the first 90 days after the closing that would normally be on our inspection checklist. See the InterNACHI Buy-Back Program for more details.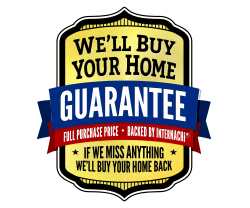 Need some added comfort in finding your new home?
Contact us today for your home inspection.