Mold Inspection Services
In addition to our thorough home inspections, we offer mold testing in Minnesota as an optional add-on for your home. Want to be sure you'll be safe from mold and the illnesses it can cause? Put your mind at ease while we do a thorough mold inspection in your home.
Where Mold Comes From
Mold is a fungus that grows in areas with moisture. When mold grows, it can damage the materials it grows on as well as cause illness in residents of a home.
Mold can start growing one to two days after a leak or spill. Unfortunately for homeowners, leaks can be hard to detect and may not be discovered for several days, weeks, or longer. Mold can also grow from:
Rain and snow through leaky roofs
Spills in unsealed areas
Indoor plumbing leaks
Natural or accidental flooding
Health Issues
Inhaling or coming into contact with mold can lead to serious health hazards for residents and guests. Problems can include breathing issues such as wheezing coughing, or development of asthma, as well as sinus infections, irritation in the throat and eyes, and sneezing.
Any home is susceptible to mold since every home has water pipes and contact with weather. Mold can grow especially well on plywood, carpet, drywall, padding, and other building materials.
How We Search for Mold*
Our team has years of inspection experience, so we know exactly where in a home to look for mold. Common areas include pipes, basements, windows, kitchens, and bathrooms, though our inspection is as thorough as can be.
We search for common signs of mold, such as:
Visible light or dark mold spores
Soft trim, flooring, and walls
Damp fabrics, such as carpets and furniture
Audible leaks behind walls and in floors
Common mold odors
Buy-Back Guarantee
We are so confident in all of our professional inspectors that if we miss anything, we'll buy your home back from you at the price you paid. Our Buy-Back Guarantee is offered if you find an issue within the first 90 days after the closing that would normally be on our inspection checklist. See the InterNACHI Buy-Back Program for more details.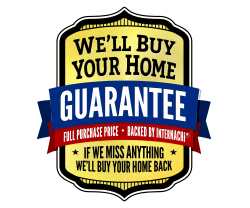 What to Do If You Have Mold
If mold is discovered during your inspection, we'll recommend a qualified, licensed contractor who is capable of safely removing and replacing areas damaged by the mold.
Contact us today for your home inspection.
*where applicable