Residential Sewer Camera Inspections
At Comfort Home Inspections, Inc., we provide thorough residential home inspections with sewer camera inspections as an optional add-on service.
Reasons to Inspect a Sewer
It's easy to see surface issues in each room of a new home, but underground problems are more difficult to discover. Inspecting sewer lines with a long and flexible camera can be an accurate way to uncover potential water flow hazards. Sewer issues can include:
Misaligned or broken pipes
Blockages
Leaks
Tree root intrusion
Even if a broken pipe is 100 feet from your foundation, the damage can affect the rest of the pipes in your home as well as your yard where the issue is located.
How We Inspect Sewers
We use a high-definition video camera on a long, flexible rod to access your pipes. While we feed and direct the camera, we can watch the live video to see damage or obstructions in real-time.
We feed the camera about 100 feet from your foundation to search for damage and obstructions which can be present even in newer homes. In past inspections, our sewer inspections have found:
Major cracks
Root intrusion
Grease buildup
Objects originating from both inside and outside of the home
Buy-Back Guarantee
We are so confident in all of our professional inspectors that if we miss anything, we'll buy your home back from you at the price you paid. Our Buy-Back Guarantee is offered if you find an issue within the first 90 days after the closing that would normally be on our inspection checklist. See the InterNACHI Buy-Back Program for more details.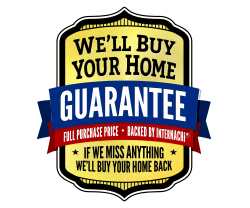 What to Do if You Have Sewer Damage
Some damage to sewer lines can be simple fixes while others can warrant big repairs with even bigger price tags. Once we finish the sewer inspection, we assemble all images of each issue and show you what caused the damage. We'll then suggest a qualified, licensed plumbing contractor to evaluate your home and provide an accurate repair cost.
Contact us today for a sewer camera inspection in your home.