Radon Home Testing Services
In addition to our home inspections, you can also schedule a radon test as an optional add-on service. Contact us today for radon testing of your home.
What is Radon?
Radon is a colorless, odorless gas that is released from soil and rock, often from underneath your home. Radon is naturally occurring and found below the foundations of homes across the US, so radon testing is common practice when purchasing a house.
After being released from soil and rock, radon usually finds its way into the air in your home through holes and cracks in your foundation. Even houses that are well sealed or homes without basements have been found with high levels of radon in the indoor air.
Why a Radon Test is Necessary
Radon is a radioactive gas that is a leading cause of lung cancer in the US. In fact, it's the second most common cause of lung cancer behind cigarette smoking, with 21,000 deaths per year from radon-included cancers in the US alone.
Since radon can be found in any new or old home, radon should be tested for before purchasing the property, but ultimately can be tested for at any time.
How We Test for Radon
In any new or old home, we'll test the property using equipment designed specifically for radon. Our radon tests take 48 hours to complete, though we can test 48 hours prior to the actual inspection if access to the property is available ahead of time. This allows us to have the results ready to present at the end of the inspection.
Buy-Back Guarantee
We are so confident in all of our professional inspectors that if we miss anything, we'll buy your home back from you at the price you paid. Our Buy-Back Guarantee is offered if you find an issue within the first 90 days after the closing that would normally be on our inspection checklist. See the InterNACHI Buy-Back Program for more details.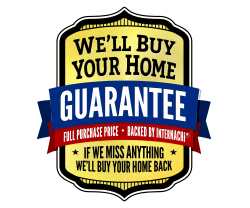 If You Have Radon
If your home is found to have high levels of radon, we recommend the installation of a radon mitigation system, which takes air from under your home and pumps it outside. Since radon is a constant threat once found, radon mitigation systems, which can cost $700 to $2500, are permanently installed for the rest of the life of the home, but these systems are almost silent and take up little space.
Call or email us today for a radon test in your home.